Let Me Introduce My Friends
An interview with I'm From Barcelona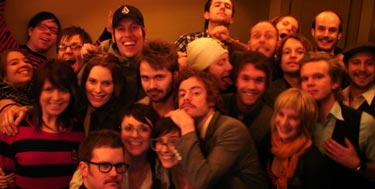 There are little songs that can change your life. Or at least, they can definitely leave their mark on a season.
You can be surprised. You didn't expect to find them so close to you. But they are playing in every special moment, and you find yourself playing them so often, and then you realize that people all around get the feeling that those songs have something magic and haunting. And it was you that played them, so now it's up to you: they've become "your songs".

I discovered We're From Barcelona, a song by the swedish band I'm From Barcelona, on the Hello Saferide's blog. A friend of mine, the photographer Lucio pointed my attention to it. I have to admit I didn't understand at first. Yes, nice and funny, but, not so... you know...
Some days later, I found I couldn't stop singing "na-na-na-na" in my head. And finally I paid attention to the lyrics too. They go something like: "I'm gonna sing a song with all of my friends / And we're all from Barcelona / Love is a feeling that we don't understand / But we're gonna give it to you / We'll aim for the stars, we'll aim for your heart / When the night comes / And we'll bring you love, you'll be one of us / When the night comes..."
Simple. Direct. Joyful. And with an irresistible and curbed sing-a-long strenght. Everything I needed.
I started playing it so much that the guys at my radio station made a jingle with it, and it sounds every time someone pronounces my name on air. I started playing it so much that people at Losing My Badge indie nights was shouting and throwing their arms in the air as soon as they were recognizing the first trumpet notes. I started playing it so much that, somehow, We're From Barcelona became a little anthem for some of us.
It was time to pay homage and say thank you to the band that created it. I met Marcus Carlholt on my way to the Popadelica Festival, and here is the little interview we made.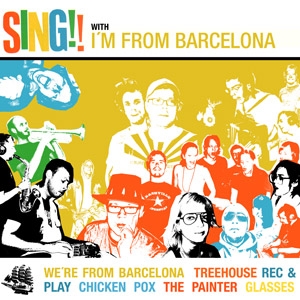 Hi Marcus, the first question is a bit obvious: since you are a lot of people, how did you get together? Was it planned or it happened by accident?
Well, it wasn't planned as such. Emanuel [Lundgren] fell in love and wanted to write different songs, happier songs than his band Valley Days usually play. He wrote some songs and let his friends record instruments and other various effects to the songs. It was also decided that the band was to play once at a local bar just for fun. The rest is history.


Does this give you some problem on arranging rehearsals or concerts?

No, not really. It's not more difficult than to have a four piece group. It's just a matter of more logistical thinking and it is eased by the fact that everyone is having so much fun doing it.
It really is easy to get wthe hole group together since we usually spend our weekends together somehow anyways.


How do you write songs?

Emanuel writes all songs and has a firm idea of what they should sound like. Then we all record it and get to put some variations into the songs if we feel it helps to evolve them.
It is the sum of all different influences within the band that makes the sound we have.


Even if this question is even more obvious, I have to do it for our italian audience: where does the name come from?

The name comes from Faulty Towers, the tv-series with John Cleese. The bellboy is named Manuel and comes from Barcelona. Manuel is short for Emanuel, kind of, and then after a couple of beers the name I'm From Barcelona was a done deal.


"We are from Barcelona" is totally a hymn, full of joy, clap hands and na-na-na. People just can't stop smiling and throw arms in the air, nodding their heads while listening to it. Please, tell me how this song was born, and the lyrics, and what the band thinks about it, and what happens when you play it.

The band gets ecstatic! It's our theme song. The song was written to explain what the band was all about, what we want to give our audience. Simples as that :)


Would you agree if I say that Burt Bacharach could have written it? By the way, who would you name as "musical influence" for I'm From Barcelona? And how do you manage to settle so many different tastes inside the band?

Burt Bacharach on LSD could have written it, yes :) And it is as happy as a Sixties song. Well, it is a sing-along-song, it is written with the most simple steps and works well to get across to people all ages.
Our influenses comes from so many different backgrounds like indie, shoegazing, symphonic rock, italo-disco, you name it. Journalists like to group us with Polyphonic Spree or Hidden Cameras. They are both great bands but far from our only influences.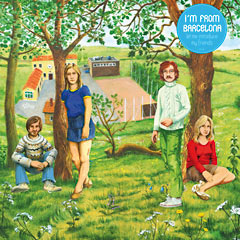 What's your opinion about the swedish indiepop scene and/or community? Everything that comes from Sweden seems to sound great and cool! How can it be?

I think it Sweden has a history of popmusic and everyone is influenced by this someway. Some people turn to make hiddeous euro-techno and thankfully some people turn to make really good indie music. Even though we might be percieved as a quite and cold country, we do use music to get us through the winter. And long summer nights with almost no dark leaves music in our minds.

Jacob, choir, answers: There is viking-blood in our veins, it is only natural to look up to vikings! :)


What do you sing in the shower? Everyone of you answer! ;-)

I sing Suspicious Minds by Elvis or Make it easy on yourself, the Walker Brothers version.

Jacob, choir: The question feels a bit personal, I'm naked in the shower, I choose to not answer.

Martin, synth: I always sing Suspicious Minds by Elvis or You've lost that loving feeling.

Mattias, clarinett: Must say that I usually sing You're the voice by John Farnham or New York, New York. And sometimes Hold me now by Johnny Logan.

Rickard, transverse flute: I sing Heaven is a place on earth by Belinda Carlisle or if Im in the right mood I would do anythig for love (but I won't do that) by Meat Loaf.

Jonas, choir: To sit on a chair in the shower singing Open your window by Ulla Billqvist makes my day! And if not that, I sing Chet Baker, There will never be another you.

Christofer, choir: I usually sing White Christmas, the Bing Crosby version. It doesn't matter what time of the year it is.

Frida, choir: Singing in the shower is exciting if you really put your head into it and sing O sole mio. Besides that I sing Endless love by Lionel Richie, it works really well for me.

David, saxophone: For me it is definitely Hero by Mariah Carey in the shower.

Honken, bass guitarr: I sing something by swedish artist Loa Falkman or Håkan Södergren and the swedish ice hockey team.

Fekke, saxophone: I like to sing Stad i ljus by Tommy Körberg, but I usually sing the english verision instead: City in lights with german accent.


Well, thank you people, I guess that's enough. Can't wait to be up there and see you perform live!

Hope you understand the answers, let me know if you want to know anything else!
We are going to Stockholm next weekend to make our second video, this time for our next single Collection of stamps.

/M rc s (choir and dancing squad)
Enzo Baruffaldi

I'm From Barcelona website
Dolores Recordings